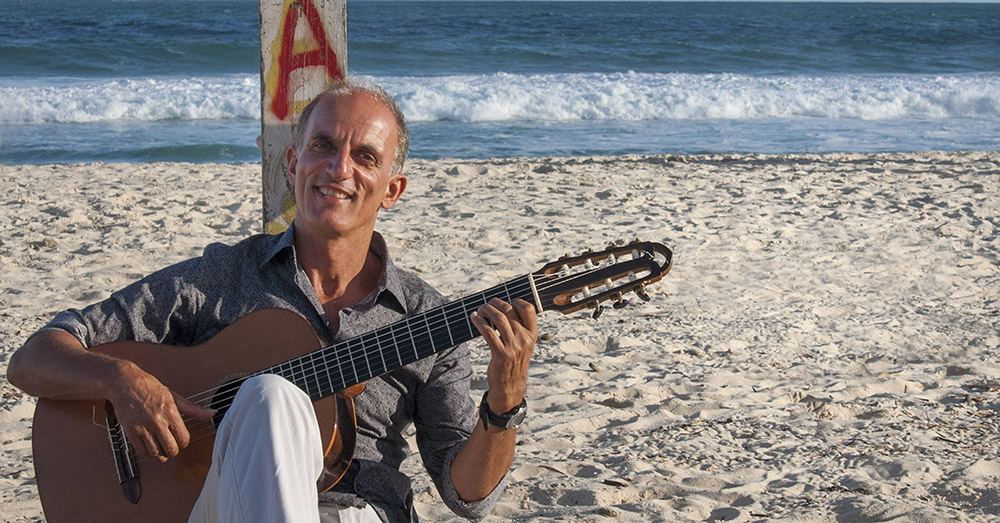 Virtuoso Magic
is the title of a review of Germanys leading newspaper Süddeutsche Zeitung about one of his concerts. The English journal "Classical Guitar" calls him a master in this field of music. Brazil's renowned guitarist Paulo Bellinati says: Ahmed is one of the great musicians who, with their inspired playing, give new impulses to Brazilian music. It is like a mystery of nature, he plays like a real Brazilian yet was born in a different country.
Ahmed El-Salamouny is of Egyptian-German descent and is living in Munich Germany. He completed his classical music education under the direction of Professor Barna Kovats at the Academy of Music, Mozarteum, in Salzburg, Austria.
Since 1981 he has performed in many important concert series. He travelled the Americas from the South of Brazil to Canada and played in such cities as São Paulo, Rio de Janeiro, Recife, Bangalore, San Diego, San Francisco, Portland, New York und Vancouver. TV and radio broadcasts as well as many CD-recordings bear witness to his high level of creativity and passion for playing.
As one of the most important representants of Brazilian music he is invited to important music festivals in Germany, Finland, France, Brazil and other countries all over the world.
He has played with such outstanding musicians as Peter Finger, Claus Boesser Ferrari, Celso Machado, Peppino d`Agostino, Pedro Tagliani, Gilson de Assis, Claudio Menandro, Carlos Barbosa Lima or Duo Assad amongst others.
Under his direction an international workshop on Brazilian music is held annually in Salvador, Brazil.
El-Salamouny is regularly invited to teach at music schools and academies. Of particular note are his Teaching Methods for Brazilian guitar, which, as are his compositions, are available from Acoustic Music Books and Acoustic Music. His work as a writer includes articles published in leading music magazines, notably Akustik Gitarre.
In 2007 Acoustic Music published his book Breaking the wall in which El-Salamouny describes a path to better learning, more creativity and a better dealing with stagefright.
Ahmed is a certified trainer and coach of the German employees asscociation (DAA). He has also studied music-psychology and physiology at the Hanns Eisler University, Berlin. Ahmed is a member of the German Association for Music Physiology and Musicians' Medicine.