"...A Modern Approach To Classical Music"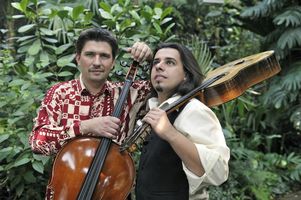 The Villa-Lobos-Duo holds an exceptional position in today's music scene. The innovativeensemble in its rare setting fascinates audiences and stuns critics repeatedly with exquisite chamber music, breathtaking virtuosity and a unique sound. Experts rate the thrilling ensemble as the best of its kind worldwide.
It was their thirst for something new, combined with the zest of joining two instruments with an almost identical gamut that brought the cellist and Echo-prize winner Sven Holger Philippsen and the Bulgarian guitarist and composer Boyan Karanjuloff together. Although the musicians are rooted in classical music, the two are drawn to where the boundaries of
these categories get blurred. Ever since its foundation in 1992, the career of the Villa-Lobos Duo has been characterized by the constant search for new musical territory.
For more information, please visit:
www.villalobosduo.com
www.boyankaranjuloff.de
Villa-Lobos-Duo - Boyan Karanjuloff (guitar) and Sven Holger Philippsen (cello) - plays
Floresta do Amazonas
by Heitor Villa-Lobos
Libertango
by Astor Piazzolla