---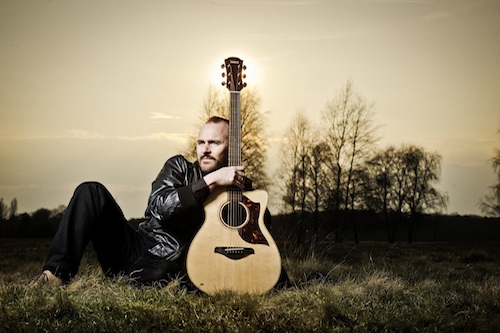 Troubadour
The Canadian is really a kind of modern day troubadour. At the age of 18 he left his hometown of Victoria in British Columbia and set off around the world with his songs and his guitar. His love of the blues and authentic playing earned him recognition from big names such as David Sanborn and Jeff Healey. Blues giant John Lee Hooker even asked for his telephone number.
After spending years on the road with his trio, travelling all over Europe, Goodman eventually made his home in Bremen, where he has developed into a remarkable solo guitarist with a unique style of his own. His lyrical playing, sensitive vocals and understated charisma render the question of whether he's a singer-songwriter who plays great guitar, or a brilliant guitarist with a good voice, completely superfluous. That's for the listener to decide.
---
Dave Goodman at "Supertalent 2013" on german RTL Television
After a gorgeous performance at german TV Show "Supertalent 2013" on RTL Television, Dave easily entered the next level. HIs self-written song "Song for Jimmy" easliy convinced one of the most severe jurys on german TV.
Great performance, Dave!
"Song for Jimmy" on his CD "Side Of The Road" - buy it »» HERE!
See the video here:
Dave a few minutes before: