---
Hommage à Marcel Dadi
13 unforgettable tunes - played by 13 masters of fingerstyle guitar
He was one of the influential figures on the acoustic music scene. With his technique and performance style, Marcel Dadi inspired an entire generation of musicians. What could make more sense, then, than paying musical tribute to this artist posthumously, twenty years after his death in July 1996, by devoting a special album to him.
Thirteen musically unimpeachable giants give an impressive interpretation of Dadi's most beautiful works and breathe new life into them. Richard Smith, Martin Taylor, Michel Haumont, Jacques Stotzem, Peter Finger, Muriel Anderson, Albert Lee, Pierre Bensusan several others perform musical and technical highlights from Dadi's repertoire and show how remarkable, and lively, modern and virtuosic this music still sounds to this day.

---
Our catalogue 2016
Get it here - for free
Did you get our 2016 catalog yet? If not, then please order it right HERE, free of charge and without obligation to buy. It is chock full of new CDs, scores and DVD workshops, and with even more special guitar accessories.
We would be glad to send you your copy , but you will have to use the following form to reveal your address. Soon after, the catalog will be in your mail box...
---
Jacques Stotzem - To Rory
You still don't know his new CD - and LP?
Some of you might still not have noticed the new CD and LP(!) of Jacques Stotzem!'To Rory' is Belgian guitar virtuoso's tribute to the late Irish rock guitarist and singer-songwriter Rory Gallagher. 'To Rory' is not only a homage to a legendary musician, it also affirms Stotzem's own place as one of the leading European acoustic guitarists.
---
---
Jacques Stotzem - all the best of 25 years
25 Acoustic Music Years - the biography with CD!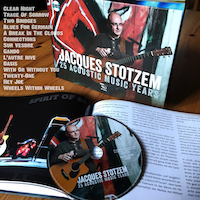 Seit über vierzig Jahren ist Jacques Stotzem in der Gitarrenszene unterwegs, 25 Jahre davon allein bei Acoustic Music Records.
Grund genug, dem sympathischen Meister des Fingerstyle dieses kleine Buch zu widmen und einem Mann danke zu sagen, der mit seinem sensiblen Gespür für Melodik, seinem spielerischen Temperament und seinem unverkennbar eigenen Sound zu den führenden europäischen Akustikgitarristen gehört.
Die beiliegende Audio-CD zeigt einen Querschnitt durch sein Schaffen von 1991 bis 2015.
Achtung:
Die ersten 100 Besteller erhalten das Buch mit CD von Jacques handsigniert!
»» HIER reinschauen und reinhören!
---
The guitar of Michel Haumont, Vol. 2
Songbook with DVD
Michael Haumont's new songbook contains most of the pieces featured on his CD "Heritage" plus two other works with notes and tablature
---
Celtic Guitar Journeys
Remarkable CD by Dylan Fowler, Ian Melrose and Soïg Sibéril
Celtic Guitar Journeys is the new project consisting of three internationally renowned finger style guitarists: Soïg Sibéril (Bretagne), Dylan Fowler (Wales) und Ian Melrose (Scotland). They celebrate their Celtic roots in a unique music, which draws from different Celtic traditions and other genres.
---
Ian Melrose - Swirling Sands
Music from Kühlungsborn

An atmospheric, impressionistic masterpiece, reflecting once again Melrose's inventive compositional and arrangement skills
---
Rhythm Shaw - Opening Act
Fresh steelstring guitar - from India
With youthful jauntiness, the nineteen-year old Indian guitar player with the programmatic name Rhythm Shaw dances along the strings of his steelstring as if there were no musical limits.
---