---
Our new catalogue 2017
Get it here - for free!
Did you get our 2017 catalog yet? If not, then please order it right HERE, free of charge and without obligation to buy. It is chock full of new CDs, scores and DVD workshops, and with even more special guitar accessories.
We would be glad to send you your copy , but you will have to use the following form to reveal your address. Soon after, the catalog will be in your mail box...
---
Hommage à Marcel Dadi
13 unforgettable tunes - played by 13 masters of fingerstyle guitar
He was one of the influential figures on the acoustic music scene. With his technique and performance style, Marcel Dadi inspired an entire generation of musicians. What could make more sense, then, than paying musical tribute to this artist posthumously, twenty years after his death in July 1996, by devoting a special album to him.
Thirteen musically unimpeachable giants give an impressive interpretation of Dadi's most beautiful works and breathe new life into them. Richard Smith, Martin Taylor, Michel Haumont, Jacques Stotzem, Peter Finger, Muriel Anderson, Albert Lee, Pierre Bensusan several others perform musical and technical highlights from Dadi's repertoire and show how remarkable, and lively, modern and virtuosic this music still sounds to this day.

---
---
Our Christmas offer: Great CD bundles
Starting at € 15,-

Santa actually has been wrapping some great packages for your - attractively priced CD bundles from our range of Guitar, Blues, Jazz, Classical and World Music with 3, 4 and even 6 CDs - already starting at € 15,-!
---
Gift ideas for guitar players
... in all prices ranges!
Just looking for a smaller present, like a keyring or some luxury, wooden plectra? Or what about a fancy guitar stand made from solid wood - or perhaps even a great guitar? For sure you'll find the right present at Acoustic Music!
---
Jacques Stotzem - all the best of 25 years
25 Acoustic Music Years - the biography with CD!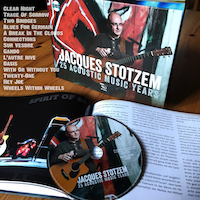 Jacques Stotzem has been a part of the guitar scene for more than 40 years, and for the last 25, he's been with our label, Acoustic Music Records.
Reasons enough to dedicate this book to the likable fingerstyle master, and to say "Thank You" to a man who, thanks to his sensible melodies, playful temperament, and immediately recognizable signature sound, is among the leading European acoustic guitarists.
The accompanying CD offers a cross-section of his oeuvre from 1991 to 2015.
»» excerpt and sound samples HERE
---